Mission Statement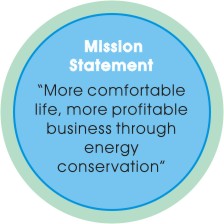 The KWI corporate mission statement summarizes the organization's goals, strategies and values.
The mission statement underscores KWI's willingness as an insulation company to help people live more comfortably and businesses run more profitable. It defines the means KWI takes to reach the goals by providing insulation products to conserve energy. It outlines the core value KWI committed to which is for the benefit of stakeholders of all kind.
The Board of Directors will provide the stewardship for the organization for sustainable growth and innovations for decades to come. Our employees are the sources of new ideas which enable our product profile to continuously expand. The will for success and the passion for innovation will shape the future for KWI.