King Wrap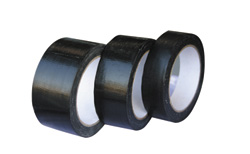 PRODUCT OVERVIEW
KingWrap is a self-adhering tape made of different types of Kingflex insulation materials. KingWrap is supplied in convenient strip form with 3-4 mm thick, 50mm wide, and 15m length.
No bands, wires or additional adhesive needed. The Kingflex closed-cell structure makes it an efficient insulation. It is manufactured without the use of CFC's, HFC's or HCFC's. It is also formaldehyde free, low VOCs, fiber free, dust free and resists to mold and mildew.
KingWrap is specifically manufactured to supplement Kingflex material installation in cases where irregular surfaces, joints and butts and hard-to-reach points make the regular tubular or flat insulation materials not applicable.
KEY PERFORMANCE MEASURES
﹣297°F to ﹢220°F(﹣183°C to ﹢105°C) temperature range
0.08 perm-inch (1.16×10-13Kg/m?s?Pa) water vapor transmission
0.27 Btu-in. /h?ft2? °F (0.039W/mK) thermal conductivity values
Flame-spread index of less than 25 and smoke-developed index of less than 50
APPLICATIONS
KingWrap can be used in the surfaces of seaming parts for tubes and rolls to reinforce the insulation systems. It provides a fast, easy method of insulating pipes and fittings. KingWrap can be conveniently applied in both irregular surfaces and narrow working spaces.
Caution: Use with ventilation. If swallowed, do not try to vomit, call emergency treatment. Avoid contact with eyes, if contacted, flush with large amount ofwater and call emergency treatment. Keep out of the reach of children.